University of Saskatchewan Leaf 07
This leaf contains text from Aurora, a 15,000-line Latin poem by Petrus de Riga which paraphrases and interprets some two dozen books of the Bible. Its oblong dimensions (24 x 11cm) make it easy to recognize, and Ege locates its origin as English in part due to this shape. It dates to the early 13th century, and is written in an early Gothic hand. See Denison University Leaf 07 for more information about this manuscript.
Text: "Evangelium," lines 260-306 (recto). A scan of the verso is not currently available, but it is likely to contain lines 307-53.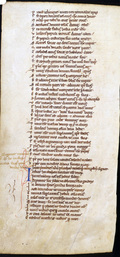 Saskatchewan Leaf 07 Recto
University of Saskatchewan Leaf 07 Recto

Saskatchewan Leaf 07 Recto Transcription
["Evangelium," lines 260-306. See Beichner, vol. II, pp. 434-36.]
"Praua relinque, tuum non reminiscar opus."
Est Amon donans uel onus: Iesus omnia donat
Mundo, pro nobis in cruce, portat onus.
Sacrificans Domino Iosias dicitur: exstas
Pro mundo factus hostia, Christe Iesu.
Vlciscens populum lechonias dicitur: ultor
Est populi Christus, qui sua uerba tenet.
Salathiel sonat oro, Deus: Dominus Iesus inquit:
"Quos michi donasti, sancte, tuere, Pater."
Zorobabel ortus sonat ex Babylone: Creator
Orbis pro nobis natus in orbe fuit.
Est Abiud genitor meus hic: "Vnum sumus," inquit
Christus, "ego, Genitor;" non "sumus unus" ait.
Dicitur Eliachim Domini surrectio: Christus
Suscitat extremo nos ueniente die.
Est adiutus Azor: "Non sum solus," Iesus inquit,
"Sed mecum Pater est; adiuuat ipse suos."
Esse Sadoch iustus interprete teste probatur:
Est Christus iustus iustificansque suos.
Nomen Achim frater meus est; Iesus inquit, "Adimplens
Velle meum frater dicitur iste, meus."
Eliud Deus est meus: ad Patrem, "Deus, in me
Respice," Christus ait, dans sua membra loqui.
Eleazar Deus est adiutor, et adiuuat illos
Christus qui puro corde sequuntur eum.
Dicitur esse Mathan donum, quia Christus in altum
Ascendens, homini celica dona dedit.
Dicitur esse Iacob supplantans: Christe, fideles
Supplantare tuos cuncta nociua facis.
Est Ioseph augmentum: "Veni uitam dare iustis,"
Christus dicit, "ut hi gaudia plena metant"
Stella Maria maris sonat, et Christus Iesus eius
Filius illustrat cuncta nitore suo.
Christe, per hanc scalam ueniens, descendis in orbem,
Vt per eam monstres ad bona summa uiam.
[Marginal note untranscribed.]
Indicat hoc Abraham moraliter, esse bonorum
Patres multorum nos uel habere fidem.
Exprimit hoc Isaac, ut abhorrens tristia, gaudens
In Domino, speres gaudia summa tibi.
Iacob demonstrat ut uiuaci pede mentis
Crimina supplantes, hostia colla terens.
Iudas uult ut te confessio mundet, honores
Corde Deum, sit laus eius in ore tuo;
Insinuatque Phares ut sanctos diuidat actus
A vitiis iustus quisque cauenda cauens.
Hoc Zara declarat, ut uerus sol oriatur
Cordibus in nostris iustitieque nitor.

Saskatchewan Leaf 07 Recto Translation
No English translation of Aurora presently exists.