Rochester Institute of Technology Leaf 25
Otto Ege identifies this leaf as coming from a Psalter made in France in the late fourteenth century, but it seems more likely to have come from a Book of Hours. One reason for this suspicion is that some of the leaves from this manuscript contain text in French--this is one of only a few manuscripts in the Ege portfolio not entirely in Latin. The vellum measures 18 x 12 cm and is thick and dirty (Ege speculates it may have been exposed to dampness); it has been cut or torn across the top edge. The lining is done in ink, with the primary text in brown and blue, orange, and white in the decoration. There are large illuminated initials with painted blocks. In the left margin on both sides is a large gold and blue bar with pointed ivy, and the decoration bleeds through to the opposite side of the leaf. See Denison University Leaf 25 for more information about this manuscript.
Text: The Hours of the Virgin at Lauds, including text from Psalms 66 and Daniel 3 (verso). A scan of the recto is not currently available.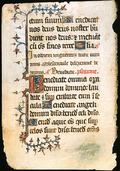 Rochester Leaf 25 Verso
Rochester Institute of Technology Leaf 25 Verso

Rochester Leaf 25 Verso Transcription
-ctum suum. Benedícat nos Deus, Deus noster! Benedícat nos Deus, et métuant eum omnes fines terræ. Gloria. Ant. In odorem unguentorum tuorum currimus adolescentule dilexerunt te nimis. Ant. Benedicta. Pseaume.

Benedicite omnia opera Domini Domino: laudate et superexaltate eum in saecula. Benedicite Angeli Domini Domino: benedicite caeli Domino. Benedicite aquae omnes quae super caelos sunt Domino: benedicite omnes

Rochester Leaf 25 Verso Translation
[Psalms 66] ...her fruit. God our God bless us, God bless us: and let all the ends of the earth fear him. Glory be to the father. Ant. Into the odor of thy ointments we do run: young maidens have loved thee exceedingly. Ant: Thou daughter art blessed.

Psalm. [Song of the three children, from Daniel 3] All the works of our Lord bless ye our Lord: praise and extol him for ever. Bless our Lord ye Angels of our Lord: the heavens bless our Lord. All waters that are above the heavens, bless ye our Lord: bless our Lord all ye...