Rochester Institute of Technology Leaf 24
Ege identifies this leaf as coming from a Book of Hours made in England or northern France in the mid-fourteenth century, and containing instructions for worship in accordance with the Use of Sarum. It measures 17.5 x 12.5 cm. Its angular ivy-leaf decoration help localize its origin. See Denison University Leaf 24 for more information about this manuscript.
Text: Not yet identified. A scan of the verso is not currently available.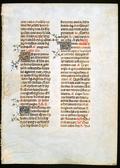 Rochester Leaf 24 Recto
Rochester Institute of Technology Leaf 24 Recto

Rochester Leaf 24 Recto Transcription
[column A]
magnum nobis et in domino et in servo dat perfecte humilitatis exemplum. In domino quidem: quia cum sit dominus non solum ab homine servo baptisari sed etiam ipse ad hunc baptisandus venire dignatus est.
R. Magi veniunt.
Lectio viii. Sed quia omnis qui se humiliat exaltabitur et dominus qui in forma hominis propter homines instruendos humilis apparuit. Mox a deo patre quantum super homines invoca[ ] super angelos et super [ ] quid creatum est eum [ ] apparuit vox de lapsa ad eum [ ] a magnifica gloria hic est filius meus dilectus in quom. complacui.
R. Intret cogabat magos.
Lec. ix. Et fidelissimus atque humillimus iohannes servus ille qui baptizari a domino q. dominum baptizare magis optavit et [ ] baptizare et apertis
[column B]
sue mentis occulis. Descendentem super cum spiritum preceteris mortalibus videre promerunt.
R. Stella fulget.
V. Veni lumen tuum [ ]. Et gloria domini.
In laudibus. Ant. Ceterem hominem [ ] salvator venit ac [ ] ut naturaq. corrupta est per aquam [ ] in corruptibili veste circu[ ] mittans nos.
Ant. Te qui in spiritu et igne purificas humana contagia deum et redeptorem omnes glorificemur.
Ant. Baptista contre[ ] et non audet tangere sanctum dei [ ] sed clamat cum tremore sanctifica me salvator.
Ant. Caput deaconis salvator con[ ] in Jordane flumine ab eius potestate omnes eripiunt.
Ant. Magnum mysterium declaratire hodie qr. creator omnium in Jordane expurgat nostra facinora.
Capitulum. Surge illuminare.
Hymnus. Num eium nobis fero.
V. Venit

Rochester Leaf 24 Recto Translation
A translation of this leaf is currently unavailable.