Rochester Institute of Technology Leaf 07
This leaf contains text from Aurora, a 15,000-line Latin poem by Petrus de Riga which paraphrases and interprets some two dozen books of the Bible. Its oblong dimensions (24 x 11cm) make it easy to recognize, and Ege locates its origin as English in part due to this shape. It dates to the early 13th century, and is written in an early Gothic hand. See Denison University Leaf 07 for more information about this manuscript.
Text: "Exodus," lines 701-47 (verso). A scan of the recto is not currently available, but it is likely to contain lines 655-700.
Reconstruction Note! This leaf immediately preceded Leaf 07 from the Ohio University portfolio in Ege's original manuscript. Together they supply "Exodus," lines 655-837.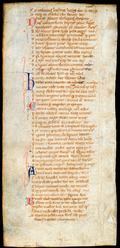 Rochester Institute of Technology Leaf 07 Verso

Rochester Leaf 07 Verso Transcription
["Exodus," lines 701-46. See Beichner, vol. I, pp. 118-20.]
Es resonans bases harum creat, inde notamus
Semper in ecclesiis uerba sonare Dei.
Facies altare de lignis sethim.
Nostra tabernaculum depinxit penna, figuras
Enucleans, gemmas ex adamante trahens;
Nunc altare peto, sed non pede corporis, immo
Versibus exametris pentametrisque pede.
Forma tabernaculi quicquid predicta notauit,
Altaris species pene figurat idem.
Teste Iohanne modis uariis res una notatur,
Cui septem patuit uisio sola modis.
Christi signatur altaris nomine sponsa;
Se Christo mactans, quisque fit ara Dei.
De lignis altare sethim contexitur, inde
Collige quod iustis uita perennis erit.
Quadra fit altaris species quia quatuor orbis
Partibus ecclesie fit solidata fides.
A solis ortu et occasu, ab aquilone et meridie.
Hinc aut inde tenet quinos cubitos quia libros
Quinque dedit Moyses, qui sacra uerba docent;
Hoc tribus erigitur cubitis quia Pneuma Sacratum
Cum Patre, cum Nato credimus esse Deum.
Cornua per angulos quatuor ex ipso ere.
Cornua iustorum consurgere quatuor orbis
Partibus altaris cornua facta notant.
Quod totum cingit altare, notatur in ere
Semper in ecclesiis nos iubilare Deo;
Vt resonans notat et campanas siue magistros:
He sonitu populos, hi ratione monent.
Dignos presbyteros credo signare lebetes,
Qui prece, qui lacrimis crimina nostra lauant.
Presbyter e flamma carbonem forcipe tollit
Cum uerbis mulcet anxia corda piis;
Cum dat opem miseris, carnea corda leuans.
+ Carbones, carnes forceps uel fuscina tollit
Si reprimens iras, carnea fluxa domas.
Quosque receptores ignis reor esse fideles
Qui pascunt inopes suscipiuntque uagos.
Omnia uasa eius fabricabis.
Altaris uasa suet eris singula, nempe
Ecclesie laudes doctor ubique canit.
Vas es electo Paulus fuit ere, resultans
Eloquio, resonans uocibus, ore tonans,
Qui pisces mundi dum Christo colligit, eius
Sermo reticulum siue sagena fuit.
Vnde illud: Mittite in dextram nauigii rete.
Bis bini circli fiunt ex ere: Iohannes,
Marce, Mathee, Luca, nos notat illud opus.
Altaris medio crates predicta resedit:
Saluus in ecclesia, non foris, esse potes.
Facies uectes et laminas.


Rochester Leaf 07 Verso Translation
No English translation of Aurora presently exists.