Ohio University Leaf 46
This leaf is from a Book of Hours made in northern France in the late fifteenth century. It measures 16 x 12 cm, and the arrangement of its responses and antiphons indicates that it accords with the Use of Rouen. Blooming on these pages are acanthus leaves intertwined with a truly impressive variety of what Ege calls "wayside flowers," including thistles, gallic roses, strawberries, grapes, and others which are so stylized as to be nearly geometric. The flowers are fenced in by red lining, a thinner form of which rules the text. There are many well-executed illuminated initials, with lesser first letters filled with yellow; occasionally a lone "cut flower" has been used to fill empty space in the text block. Many leaves are stained from use. See Denison University Leaf 46 for more information about this manuscript.
Text: This leaf contains text from the Hours of the Virgin at Nones. Note the 5 blank lines on the verso.
Reconstruction Note! In Ege's original manuscript, this leaf followed what is now Leaf 46 in the Lima Public Library portfolio.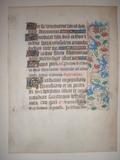 Ohio University Leaf 46 Recto
Ohio University Leaf 46 Recto

Ohio University Leaf 46 Recto Transcription
Ecce sic benedicetur homo: qui timet Dominum.
Benedicat tibi Dominus ex Sion: et videas bona Hierusalem, omnibus diebus vitae tuae.
Et videas filios filiorum tuorum: pax super Israel.
Gloria patri. Ant: Pulchra es et decora filia Hierusalem, terribilis ut castrorum acies ordinata. Capitulum.
Et radicavi in populo honorificato, et in partes Dei mei hereditas illius: et in plenitudine sanctorum detentio mea. Deo gratias. Ant: Speciosa facta es, et suavis. Speciosa. In deliciis tuis

Ohio University Leaf 46 Recto Translation
[from Psalms 127] Lo so shall the man be blessed: that feareth our Lord. Our Lord out of Sion bless thee: and that thou mayest see the good things of Jerusalem, all the days of thy life. And that thou mayest see thy children's children: peace upon Israel. Glory to the Father. Ant: Fair thou art and comely O daughter of Jerusalem, terrible as the front of an army set in array. Chapter.
[Ecclesiasticus 24] I have also taken root in an honourable people, and in the parts of my God his inheritance: and my abiding in the fulness of saints. Thanks be to God. Ant: Thou art made fair and sweet. Thou art made fair. In thy delicateness...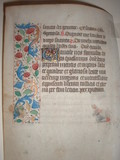 Ohio University Leaf 46 Verso
Ohio University Leaf 46 Verso


Ohio University Leaf 46 Verso Transcription
sancta Dei genitrix. Et suavis. [ ]. Speciosa. V: Dignare me laudare te virgo sacrata. R: Da mihi virtutem contra hostes tuos. Domine exaudi.
Concede nos famulos tuos quaesumus Domine Deus perpetua mentis, et corporis sanitate gaudere: et gloriosa beatae Mariae semper virginis intercessione a praesenti liberari tristitia, et aeterna perfrui laetitia. Per Christum.
[5 lines left blank.]

Ohio University Leaf 46 Verso Translation
...O holy mother of God. And sweet. [ ]. Thou art made fair. V: Vouchsafe me to praise thee O sacred virgin. R: Give me force against thy enemies. O Lord hear my prayer.
O Lord God we beseech thee grant us thy servants, to enjoy perpetual health of mind, and body: and by the glorious intercession of the ever blessed virgin Mary, to be delivered from this present sorrow, and to enjoy gladness everlasting. Through Christ.
[5 lines left blank.]