Ohio University Leaf 42
Ege identifies this leaf as coming from a psalter made in the year 1499 in the Benedictine monastery of St. Stephan in Würzburg, Germany. At 44 x 30 cm, it is the largest leaf in the Ege portfolios, and many of the leaves we have seen contain hymn texts. The vellum is thick, but supple through use; the margins are very modest when compared to those of the other leaves in the collection. The ink is black, but faded through exposure in many places. At least one leaf has been repaired and rewritten in a different hand. Most of the red and blue initials, however, have retained their color strongly. See Denison University Leaf 42 for more information about this manuscript.
Text: Not yet identified, but the content seems to be in celebration of the Annunciation. The recto contains the end of the hymn "O quam glorifica" (O how Glorious), the whole of "Gaude visceribus mater," and the beginning of "O Sancta mundi domina"; the verso ends "O sancta," and contains a hymn to St. Michael ("Mysteriorum signifer").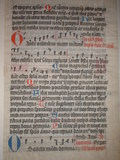 Ohio University Leaf 42 Recto
Ohio University Leaf 42 Recto

Ohio University Leaf 42 Recto Transcription
est corpore xps. Quem cunctus venerans orbis adorat cui nunc rite genuflectitur omne a quo nos petimus te ueniente abiectis tenebris gaudia lucis. Hoc largire pater luminis omnis natum per proprium flamine sacro qui tecum nitida uiuit in ethera regnans ac moderans secula cuncta. [ ]
Gaude visceribus mater
in intimis felix ecclesia
quae sacra replicas
sanctae festa mariae
plaudent astra solum mare
Cuius magnifica est generatio
cuius vita sacris claruit actibus
cuius finis honorem
summum sine tenet fine
Quae virgo peperit virgoque permanet
lactavit propriis uberibus deum
portantemque gerebat
ulnis prona trementibus
Felix multiplici laude puerpera
regis porta sui clausa perenniter
mundi stella fluentis
floris virgula regia
Te nunc suppliciter sancta theotocos
regis perpetui sponsaque poscimus
ut nos semper ubique
miti munere protegas
Sanctis obtineas virgo precatibus
pacis praesidium dulce diutine
nobis atque beati
regni dona perennia
Praesta summe pater patris ac unice
amborumque simul spiritus annue
qui regnas deus unus
omni tempore saeculi. Amen. Ad nocturnum. [ ]
Ad laudes hymnus.
O sancta mundi domina...

Ohio University Leaf 42 Recto Translation
A translation of this leaf is currently unavailable.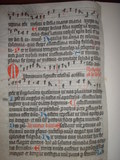 Ohio University Leaf 42 Verso
Ohio University Leaf 42 Verso

Ohio University Leaf 42 Verso Transcription
regina cæli inclita,
o stella maris fulgida,
virgo mater mirifica.
Emerge, dulcis filia,
nitesce iam virguncula,
florem latura nobilem,
Christum Deum et hominem.
Natalis tui annua
en colimus sollemnia,
quo stirpe dilectissima
mundo fulsisti genita.
Per te sumus, terrigenæ
simulque iam cæligenæ,
pacati pace nobili,
more non æstimabili.
Sit Trinitati gloria
sit semper ac victoria
in unitate solida
per sæculorum sæcula. Amen. [ ]
Mysteriorum signifer
caelestium archangele
te supplicantes quaesumus
ut nos placatus visites
Ipse cum sanctis angelis
cum iustis cum apostolis
illustra locum iugiter
quo nunc orantes degimus
Castissimorum virginum
doctorum ac pontificum
pro nobis preces profluas
devotus offer domino
Hostem repellat ut saevum
hospemque pacis dirigat
et nostra simul pectora
fides perfecta muniat. Deo patri. [ ]
Ascendant nostre protinus
ad thronum voces ingloria
mentesque nostras erigat.
[4 lines untranscribed.]

Ohio University Leaf 42 Verso Translation
A translation of this leaf is currently unavailable.