Ohio University Leaf 29
This leaf is from a French Book of Hours made in the middle of the fifteenth century. It measures only 18 x 13.5 cm, and its broad margins help emphasize the often dramatic difference between the size of a text block and the overall size of a leaf. The text block is ruled in red; first letters are decorated with gold, blue, light plum, and white. The ivy leaves are gold, with flowers and buds in the ivy rendered in medium green and blue, and occasionally red and plum. Some leaves have the marginal ivy on both the recto and verso. See Denison University Leaf 29 for more information about this manuscript.
Text: This leaf contains text from the Office of the Dead at Matins, the Third Nocturne, including passages from Job 17 and 19.
Reconstruction Note! In Ege's original manuscript, this leaf followed what is now Leaf 29 in the Case Western University portfolio, and was followed by what is now Leaf 29 in the Rochester Institute of Technology portfolio.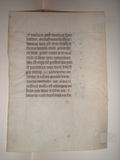 Ohio University Leaf 29 Recto
Ohio University Leaf 29 Recto

Ohio University Leaf 29 Recto Transcription
et rursum post tenebras spero lucem. Si sustinuero, infernus domus mea est, et in tenebris stavi lectulum meum. Putredini dixi, Pater meus es: mater mea, et soror mea vermibus. Ubi est ergo nunc praestolatio mea et patientia mea? Tu es Domine deus meus. R. Peccantem me quotidie, et non me poenitentem, timor mortis conturbat me: Quia in inferno nulla est redemptio, miserere mei Deus, et salva me. V. Deus in nomine tuo salvum me fac

Ohio University Leaf 29 Recto Translation
[Lesson 7, from Job 17] ...and again after darkness I hope for light. If I shall expect, hell is my house, and in darkness I have made my bed. I have said to rottenness, thou art my father: to worms my mother, and my sister. Where is now then my expectation, and my patience? Thou O Lord art my God. R. The fear of death doth trouble me, sinning daily, and not repenting: for that in hell there is no redemption, have mercy upon me O God, and save me. V. O God in thy name save me...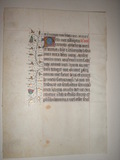 Ohio University Leaf 29 Verso
Ohio University Leaf 29 Verso


Ohio University Leaf 29 Verso Transcription
et in virtute tua libera me. Quia in. Lect. viii.
Pelli meae, consumptis carnibus, adhaesit os meum: et derelicta sunt tantummodo labia circa dentes meos. Miseremini mei, miseremini mei, saltem vos amici mei, quia manus Domini tetigit me. Quare persequimini me sicut Deus, et carnibus meis saturamini? Quis mihi tribuat, ut scribantur sermones mei? Quis mihi det, ut exarentur in libro stylo ferreo et plumbi lamina, vel celte scul-

Cincinnati Leaf 29 Verso Translation
...and in thy force deliver me. For that in hell... Lesson 8.
[from Job 19] The flesh being consumed, my bone hath cleaved to my skin: and there are left only lips about my teeth. Have mercy upon me, have mercy upon me, at the least you my friends, because the hand of our Lord hath touched me. Why do you as God persecute me, and are filled with my flesh? Who will grant me, that my words may be written? Who will give me, that they may be registered in a book, with an iron pen, and in plate of lead, or else with a chisel might be graven...