Ohio University Leaf 25
Otto Ege identifies this leaf as coming from a Psalter made in France in the late fourteenth century, but it seems more likely to have come from a Book of Hours. One reason for this suspicion is that some of the leaves from this manuscript contain text in French--this is one of only a few manuscripts in the Ege portfolio not entirely in Latin. The vellum measures 18 x 12 cm and is thick and dirty (Ege speculates it may have been exposed to dampness); it has been cut or torn across the top edge. The lining is done in ink, with the primary text in brown and blue, orange, and white in the decoration. There are large illuminated initials with painted blocks. In the left margin on both sides is a large gold and blue bar with pointed ivy, and the decoration bleeds through to the opposite side of the leaf. See Denison University Leaf 25 for more information about this manuscript.
Text: The Hours of the Virgin at Vespers. Contains Psalms 147:7-9 and Ecclesiasticus 24:14 (recto), and the Marian hymn "Ave Maris Stella" (Hail, Star of the Ocean) (verso).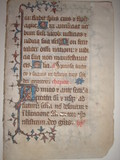 Ohio University Leaf 25 Recto
Ohio University Leaf 25 Recto

Ohio University Leaf 25 Recto Transcription
ea; flabit spíritus ejus, et fluent aquæ. Qui annúntiat verbum suum Jacob, justítias et judícia sua Israël. Non fecit táliter omni natióni, et judícia sua non manifestávit eis. Gloria. Ant. Speciosa facta es & suavis in deliciis tuis sancta dei genitrix. Chapitre.
Ab initio, et ante saecula creata sum, et usque ad futurum saeculum non desinam: et in habitatione sancta coram ipso ministravi. Deo gratias. Hymnus.

Ohio University Leaf 25 Recto Translation
[Psalms 147] ...them: his wind shall blow, and the waters shall run. 8 Who declareth his word to Jacob: his justices and his judgments to Israel. 9 He hath not done in like manner to every nation: and his judgments he hath not made manifest to them. Gloria. Ant. Thou art made fair and sweet in thy delicateness, o holy mother of God. Chapter.
[Ecclesiasticus 24] From the beginning, and before worlds was I created, and unto the world to come I shall not cease: and in the holy habitation have I ministered before him. Thanks be to God. Hymn.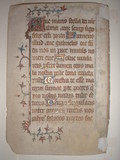 Ohio University Leaf 25 Verso
Ohio University Leaf 25 Verso


Ohio University Leaf 25 Verso Transcription
Ave maris stella, Dei Mater alma, atque semper Virgo, felix caeli porta. Sumens illud Ave Gabrielis ore, funda nos in pace, mutans Hevae nomen. Solve vincula reis, profer lumen caecis mala nostra pelle, bona cuncta posce. Monstra te esse matrem: sumat per te preces, qui pro nobis natus, tulit esse tuus. Virgo singularis, inter omnes mites, nos culpis solutos, mites fac

Ohio University Leaf 25 Verso Translation
All hail star of the sea, God's mother clear and bright, the happy gate of bliss, and still in virgin's plight. Receiving that all hail, which Gabriel's mouth did give, establish us in peace, changing the name of Eve. The guilty's bands unbind, blind men their sight assure: ill things from us expel, all good for us procure. A mother show thy self, he take our plaints by thee, that being for us born, vouchsafe thy son to be. O rarest virgin pure, of all that meekest...