Lima Public Library Leaf 42
Ege identifies this leaf as coming from a psalter made in the year 1499 in the Benedictine monastery of St. Stephan in Würzburg, Germany. At 44 x 30 cm, it is the largest leaf in the Ege portfolios, and many of the leaves we have seen contain hymn texts. The vellum is thick, but supple through use; the margins are very modest when compared to those of the other leaves in the collection. The ink is black, but faded through exposure in many places. At least one leaf has been repaired and rewritten in a different hand. Most of the red and blue initials, however, have retained their color strongly. See Denison University Leaf 42 for more information about this manuscript.
Text: Not yet identified, but clearly part of the Office for the Dead. It contains passages from Psalms 22 and Job 13 (recto), and Job 10 and 14 and Psalms 73 (verso).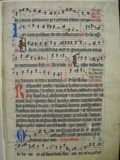 Lima Leaf 42 Recto
Lima Public Library Leaf 42 Recto

Lima Leaf 42 Recto Transcription
-sti eorum precamur pie peccata dilue. Ut penetentie. [ ]
In loco paschue ibi me collocavuit. Psalmus. Dominus regum. Ant. Delicta juventutis mee et ignorancias meas, ne memineris, Domine. Psalmus. Ad te domine. Ant. Credo videre bona domini in terra vivencium. Psalmus. Dominus illuminatia. [ ]
Respónde mihi. Quantas hábeo iniquitátes et peccáta? scélera mea et delícta osténde mihi. Cur fáciem tuam abscóndis, et arbitráris me inimícum tuum? Contra fólium, quod vento rápitur, osténdis poténtiam tuam, et stípulam siccam perséqueris: scribis enim contra me amaritúdines, et consúmere me vis peccátis adolescéntiæ meæ. Posuísti in nervo pedem meum, et observásti omnes sémitas meas, et vestígia pedum meórum considerásti: qui quasi putrédo consuméndus sum, et quasi vestiméntum quod coméditur a tínea. Responsorum.
Memento queso quod sicut lutum feceris me: et in pulve-

Lima Leaf 42 Recto Translation
A translation of this leaf is currently unavailable.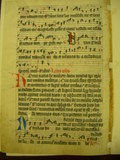 Lima Leaf 42 Verso
Lima Public Library Leaf 42 Verso


Lima Leaf 42 Verso Transcription
-rem reduces me. Nonne sicut lac mulsisti me: et sicut caseum me coagulasti. Pelle et carnibus vestisti me: ossibus et nervis compegisti me. Vitam et misericordiam tribuisti michi: et visitacio tua custodivit spiritum meum. Nonne. Lectio quinta.
Hómo natus de mulíere, brevi vivens témpore, replétur multis misériis. Qui quasi flos egréditur et contéritur, et fugit velut umbra, et numquam in eódem statu pérmanet. Et dignum ducis super hujuscémodi aperíre óculos tuos, et addúcere eum tecum in judícium? Quis potest fácere mundum de immúndo concéptum sémine? nonne tu qui solus es? Breves dies hóminis sunt: númerus ménsium ejus apud te est: constituísti términos ejus, qui præteríri non póterunt. Recéde páululum ab eo, ut quiéscat, donec optáta véniat, sicut mercenárii, dies ejus. R.
Ne tradas domine béstiis ánimas confiténtes tibi

Lima Leaf 42 Verso Translation
A translation of this leaf is currently unavailable.