Lima Public Library Leaf 10
This mid-thirteenth century German psalter has acquired the nickname "The Laughing Carp Psalter" due to its penwork illustrations. The decorative style involves using fish (one of the leading medieval symbols for Christ) to complete lines of text that do not reach to the right margin of the page; this maintains the aesthetic of a full page within the borders of the leaf. The leaf itself measures 19.5 x 14cm, with slightly yellowed and stained vellum, and is lined in ink. The ink used for the bulk of the text is very dark, but fades into brown in places. Blue, red, coral, orange, and white are used in the decoration, and scribal corrections are included above each line where necessary. See Denison University Leaf 10 for more information about this manuscript.
Text: Habakkuk 3:10-16 (recto); Habakkuk 3:16-19 and Deuteronomy 32:1-2 (verso).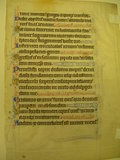 Lima Leaf 10 Recto
Lima Public Library Leaf 10 Recto

Lima Leaf 10 Recto Transcription
-runt montes; gurges aquárum tránsiit:
Dedit abýssus vocem suam; altitúdo manus suas levávit.
Sol et luna stetérunt in habitáculo suo: in luce sagittárum tuárum ibunt, in splendóre fulgurántis hastæ tuæ.
In frémitu conculcábis terram; in furóre obstupefácies gentes.
Egréssus es in salútem pópuli tui, in salútem cum christo tuo:
Percussísti caput de domo ímpii, denudásti fundaméntum ejus usque ad collum.
Maledixísti sceptris ejus, cápiti bellatórum ejus, veniéntibus ut turbo ad dispergéndum me:
Exsultátio eórum, sicut ejus qui dévorat páuperem in abscóndito.
Viam fecísti in mari equis tuis, in luto aquárum multárum.
Audívi, et conturbátus est venter meus


Lima Leaf 10 Recto Translation
[Habakkuk 3:10-16]
...mountains saw thee, and were grieved: the great body of waters passed away. The deep put forth its voice: the deep lifted up its hands. 11 The sun and the moon stood still in their habitation, in the light of thy arrows, they shall go in the brightness of thy glittering spear. 12 In thy anger thou wilt tread the earth under foot: in thy wrath thou wilt astonish the nations. 13 Thou wentest forth for the salvation of thy people: for salvation with thy Christ. Thou struckest the head of the house of the wicked: thou hast laid bare his foundation even to the neck. 14 Thou hast cursed his sceptres, the head of his warriors, them that came out as a whirlwind to scatter me. Their joy was like that of him that devoureth the poor man in secret. 15 Thou madest a way in the sea for thy horses, in the mud of many waters. 16 I have heard and my bowels were troubled...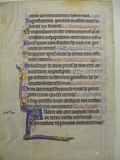 Lima Leaf 10 Verso
Lima Public Library Leaf 10 Verso


Lima Leaf 10 Verso Transcription
a voce contremuérunt lábia mea.
Ingrediátur putrédo in óssibus meis, et subter me scáteat:
Ut requiéscam in die tribulatiónis, ut ascéndam ad pópulum accínctum nostrum.
Ficus enim non florébit, et non erit germen in víneis;
Mentiétur opus olívæ, et arva non áfferent cibum:
Abscindétur de ovíli pecus, et non erit arméntum in præsépibus.
Ego autem in Dómino gaudébo; et exsultábo in Deo Jesu meo.
Deus Dóminus fortitúdo mea, et ponet pedes meos quasi cervórum:
Et super excélsa mea dedúcet me victor in psalmis canéntem.
Audíte, celi, que loquor: áudiat terra verba oris mei.
Concréscat ut plúvia doctrína mea,

Lima Leaf 10 Verso Translation
[Habakkuk 3:16-19]
...my lips trembled at the voice. Let rottenness enter into my bones, and swarm under me. That I may rest in the day of tribulation: that I may go up to our people that are girded. 17 For the fig tree shall not blossom: and there shall be no spring in the vines. The labour of the olive tree shall fail: and the fields shall yield no food: the flock shall be cut off from the fold, and there shall be no herd in the stalls. 18 But I will rejoice in the Lord: and I will joy in God my Jesus. 19 The Lord God is my strength: and he will make my feet like the feet of harts: and he the conqueror will lead me upon my high places singing psalms.
[Deuteronomy 32:1-2]
1 Hear, O ye heavens, the things I speak, let the earth give ear to the words of my mouth. 2 Let my doctrine gather as the rain...