Kenyon College Leaf 48
This leaf is from a Dutch Book of Hours from the late fifteenth century. It measures 17.5 x 12.5 cm. Compared to the other specimens of fifteenth-century Books of Hours in the portfolios, this one contains highly "itemized" pages: the red ink used for the rubrications sharply contrasts with the brown ink; several 1- or 2-line initials rendered in gold on a background of blue or red bring light into the text block of most leaves; and many lesser first letters are filled with yellow. Despite this lavish plan, all leaves from this manuscript show evidence of problematic adherence of the gold leaf, and/or incomplete decoration or text. See Denison University Leaf 48 for more information about this manuscript.
Text: Not yet identified. Prayers vaguely reminiscent of the Our Father, and written in French.
Reconstruction Note! This leaf is probably consecutive with Leaf 48 in the Cleveland Institute of Art portfolio.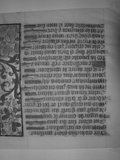 Kenyon Leaf 48 Recto
Kenyon College Leaf 48 Recto

Kenyon Leaf 48 Recto Transcription
Que ces brevis aloit paissant
O librius en trespessant
Qui estoit sire du pais
la regarda [ ] le vis
Ne prist pas garde au vestement
Mais au corps quel ot bel et gent
Adroit et de belle estatuir
Dultre [ ] grant aleuir
Mais ne la mis pas eu oubli
Maintenant envoya aly
pour savoir qui elle estoit
Et ce elle amer le vouldroit.
Le messagier yest venus
les la pucelle est descendus
Pucelle fait il dieu vous sault
Celle ne respont pas en hault
Ne de ricus ne fut esbalne
Avis a dit dieu vous benye
Et cil ly commenca a dire
Damoiselle fait il mes sur

Kenyon Leaf 48 Recto Translation
A translation of this leaf is currently unavailable.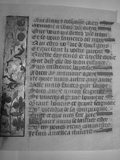 Kenyon Leaf 48 Verso
Kenyon College Leaf 48 Verso


Kenyon Leaf 48 Verso Transcription
Qui oravis trespassa par cy
Memioie a vous vostre merci
Que vous me dittes vostre nom
Et se vous la meres ou nom
Qui estes vo[ ] ne de quel gens
Et qui sont li vostre parent
Quelle foy tenes et quelle creance
Sire dist elle des mon enfance
Suis crestienne baptisie
A dieu ay maniour apoye
Ne quier mais aultre amy avoir
Belle mais saictes grant savor
Soies amye a mon seigneur
Si viueres a grant honneur
Grant honneur et grant seignorie
[ ] viendra de sa compaignie
Faicte ce que mes sur prie
Biaux amis se laissier ester
[ ] ny poves riens conquester
Je suis ancelle a Ihu crist.



Kenyon Leaf 48 Verso Translation
A translation of this leaf is currently unavailable.