Kenyon College Leaf 37
This leaf is from an Epsitolary, a manuscript containing the Gospels and Epistles (i.e., Letters) of the New Testament as well as lessons from the Hebrew Scriptures. It was copied in Italy in the mid-fifteenth century, and measures 29 x 21.5 cm. The script is an attractive, readable "Rotunda" (round) Gothic, with first letters of verses filled with yellow. The top margin has been trimmed, and some leaves show extensive erasure. See Denison University Leaf 37 for more information about this manuscript.
Text: 2 Maccabees 1:5; Ecclesiasticus 36:1-10 (recto); Daniel 3:49-51; 1 Thessalonians 5:14-15 (verso).
Reconstruction Note! In Ege's original manuscript, this leaf followed what is now Leaf 37 in the Denison University portfolio.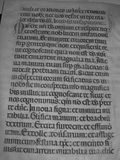 Kenyon Leaf 37 Recto
Kenyon College Leaf 37 Recto


Kenyon Leaf 37 Recto Transcription
-áudiat oratiónes vestras, et reconciliétur vobis, nec vos déserat in témpore malo. Dominus deus noster. Lectio. Librum Sapientie.
Miserére nostri, Deus ómnium, et réspice nos, et osténde nobis lucem miseratiónum tuárum: et immítte timórem tuum super gentes quæ non exquisiérunt te, ut cognóscant quia non est deus nisi tu, et enárrent magnália tua. Álleva manum tuam super gentes aliénas, ut vídeant poténtiam tuam. Sicut enim in conspéctu eórum sanctificátus es in nobis, sic in conspéctu nostro magnificáberis in eis: ut cognóscant te, sicut et nos cognóvimus quóniam non est deus præter te, Dómine. Ínnova signa, et immúta mirabília. Glorífica manum et bráchium dextrum. Éxcita furórem, et effúnde iram. Tolle adversárium, et afflíge inimícum. Festína tempus, et meménto finis, ut enárrent mirabília tua. Domine

Kenyon Leaf 37 Recto Translation
[2 Maccabees 1:5] May he hear your prayers, and be reconciled unto you, and never forsake you in the evil time. The Lord our God. Reading. The Book of Wisdom.
[Ecclesiasticus 36:1-10] Have mercy upon us, O God of all, and behold us, and shew us the light of thy mercies: 2 And send thy fear upon the nations, that have not sought after thee: that they may know that there is no God beside thee, and that they may shew forth thy wonders. 3 Lift up thy hand over the strange nations, that they may see thy power. 4 For as thou hast been sanctified in us in their sight, so thou shalt be magnified among them in our presence, 5 That they may know thee, as we also have known thee, that there is no God beside thee, O Lord. 6 Renew thy signs, and work new miracles. 7 Glorify thy hand, and thy right arm. 8 Raise up indignation, and pour out wrath. 9 Take away the adversary, and crush the enemy. 10 Hasten the time, and remember the end, that they may declare thy wonderful works. The Lord...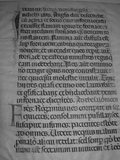 Kenyon Leaf 37 Verso
Kenyon College Leaf 37 Verso

Kenyon Leaf 37 Verso Transcription
deus noster. Lectio. Danielis propheta.
In diebus illis. Ángelus Dómini descéndit cum Azaría, et sóciis ejus in fornácem: et excússit flammam ignis de fornáce, et fecit médium fornácis quasi ventum roris flantem, et non tétigit eos omníno ignis, neque contristávit, nec quidquam moléstiæ íntulit. Tunc hi tres quasi ex uno ore laudábant, et glorificábant, et benedicébant Deum in fornáce, dicéntes. Ad Thesalonieenses.
Fratres. Rogámus autem vos, fratres, corrípite inquiétos, consolámini pusillánimes, suscípite infírmos, patiéntes estóte ad omnes. Vidéte ne quis malum pro malo alícui reddat: sed semper quod bonum est sectámini in ínvicem, et in omnes.

Kenyon Leaf 37 Verso Translation
...our God. Reading. The Prophet Daniel.
In that time. [Daniel 3:49-51] The angel of the Lord went down with Azarias and his companions into the furnace: and he drove the flame of the fire out of the furnace, 50 And made the midst of the furnace like the blowing of a wind bringing dew, and the fire touched them not at all, nor troubled them, nor did them any harm. 51 Then these three as with one mouth praised, and glorified, and blessed God in the furnace, saying. Thessalonians.
Brothers. [1 Thessalonians 5:14-15] And we beseech you, brethren, rebuke the unquiet, comfort the feeble minded, support the weak, be patient towards all men. 15 See that none render evil for evil to any man; but ever follow that which is good towards each other, and towards all men.