Kent State University Leaf 48
This leaf is from a Dutch Book of Hours from the late fifteenth century. It measures 17.5 x 12.5 cm. Compared to the other specimens of fifteenth-century Books of Hours in the portfolios, this one contains highly "itemized" pages: the red ink used for the rubrications sharply contrasts with the brown ink; several 1- or 2-line initials rendered in gold on a background of blue or red bring light into the text block of most leaves; and many lesser first letters are filled with yellow. Despite this lavish plan, all leaves from this manuscript show evidence of problematic adherence of the gold leaf, and/or incomplete decoration or text. See Denison University Leaf 48 for more information about this manuscript.
Text: This leaf contains text from the Seven Penitential Psalms, numbers 37 and 50.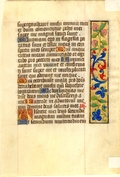 Kent Leaf 48 Recto
Kent State University Leaf 48 Recto

Kent Leaf 48 Recto Transcription
supergaudeant mihi inimici mei: et dum commoventur pedes mei, super me magna locuti sunt.
Quoniam ego in flagella paratus sum: et dolor meus in conspectu meo semper.
Quoniam iniquitatem meam annunciabo: et cogitabo pro peccato meo.
Inimici autem mei vivunt, et confirmati sunt super me: et multiplicati sunt, qui oderunt me inique.
Qui retribuunt mala pro bonis, detrahebant mihi: quoniam sequebar bonitatem.
Non derelinquas me Domine Deus meus: ne discesseris a me.
Intende in adiutorium meum: Domine Deus salutis meae. Psalmus.
Miserere mei Deus: secundum magnam misericordiam tuam.
Et secundum multitudinem

Kent Leaf 48 Recto Translation
[from Psalms 37] ...lest sometimes my enemies rejoice over me: and whilst my feet are moved, they spake great things upon me. Because I am ready for scourges: and my sorrow is in my sight always. Because I will declare my iniquity: and I will think for my sin. But mine enemies live, and are confirmed over me: and they are multiplied that hate me unjustly. They that repay evil things for good, did backbite me: because I followed goodness. Forsake me not O Lord my God: depart not from me. Incline unto my help: O Lord God of my salvation. Psalm.
[Psalms 50] Have mercy on me O God: according to thy great mercy. And according to the multitude...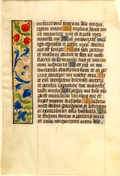 Kent Leaf 48 Verso
Kent State University Leaf 48 Verso


Kent Leaf 48 Verso Transcription
miserationum tuarum: dele iniquitatem meam.
Amplius lava me ab iniquitate mea: et a peccato meo munda me.
Quoniam iniquitatem meam ego cognosco: et peccatum meum contra me est semper.
Tibi soli peccavi, et malum coram te feci: ut iustificeris in sermonibus tuis, et vincas cum iudicaris.
Ecce enim in iniquitatibus conceptus sum: et in peccatis concepit me mater mea.
Ecce enim veritatem dilexisti: incerta et occulta sapientiae tuae manifestasti mihi.
Asperges me hyssopo, et mundabor: lavabis me, et super nivem dealbabor.
Auditui meo dabis gaudium, et laetitiam: et exultabunt ossa humiliata.
Averte faciem tuam a peccatis meis: et omnes iniquitates meas dele.

Kent Leaf 48 Verso Translation
[continuing Psalms 50] ...of thy tender mercies: blot out my iniquity. Wash me more from my iniquity: and cleanse me from my sin. Because I do know my iniquity: and my sin is always against me. To thee only have I sinned, and have done evil before thee: that thou mayest be justified in thy words, and mayest overcome when thou art judged. For behold I was conceived in iniquities: and my mother conceived me in sins. For behold thou hast loved truth: the uncertain and hidden things of thy wisdom thou hast made manifest to me. Thou shalt sprinkle me with hyssop, and I shall be cleansed: thou shalt wash me, and I shall be made whiter than snow. To my hearing thou shalt give joy, and gladness: and humbled bones shall rejoice. Turn away thy face from my sins: and blot out all my iniquities.