Kent State University Leaf 24
Ege identifies this leaf as coming from a Book of Hours made in England or northern France in the mid-fourteenth century, and containing instructions for worship in accordance with the Use of Sarum. It measures 17.5 x 12.5 cm. Its angular ivy-leaf decoration help localize its origin. See Denison University Leaf 24 for more information about this manuscript.
Text: Not yet identified, but the readings contain text from Isaiah 7:13-20 (recto). A scan of the verso is not currently available.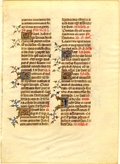 Kent Leaf 24 Recto
Kent State University Leaf 24 Recto

Kent Leaf 24 Recto Transcription
[column A]
preparatus mons domus domini in verticem moncium et fluent ad eum omnes gentes.
Ps. [ ]. Feria vi. Lectio primo.
[Isaiah 7:13-14] Et dixit audite ergo domus David numquid parum vobis est molestos esse hominibus: quia molesti estis et deo meo: propter hoc dabit dominus ipse vobis signum ecce virgo concipiet et pariet filium et vocabitur nomen eius Emmanuel. Hec dicit.
Lectio ii. [Isaiah 7:15-16] Butyrum et mel comedet ut sciat reprobare malum et eligere bonum. Quia antequam sciat puer reprobare malum et eligere bonum derelinquetur terra quam tu detestaris a facie duum regum suorum. Hec dicit.
Lectio iii. [Isaiah 7:17] Adducet Dominus super te et super populum tuum et super domum patris tui dies qui non venerunt a diebus
[column B]
separationis Ephraim a Iuda cum rege Assyriorum. Hec dicit.
Ad [ ] ant. Paratus esto Israel in occursum domini quem venit.
Psalmum. Benedictus.
Ad [Matutinem?] Ant. Levabit dominus signum in nacionibus et congregabit dispersos israel. Alla.
Psalm [ ]. [ ]
Lectio prima. [Isaiah 7:18] Et erit in die illa sibilabit Dominus muscae quae est in extremo fluminum Aegypti et api quae est in terra Assur. Hec dicit domino.
Lectio secunda. [Isaiah 7:19] Et venient et requiescent omnes in torrentibus vallium et cavernis petrarum et in omnibus frutectis et in universis foraminibus. Hec dicit.
Lectio tercia. [Isaiah 7:20] In die illa radet Dominus in novacula conducta in his qui trans Flumen sunt in rege Assyriorum caput et pilos pedum et barbam universam. Hec dicit dominus.

Ad [ ] ant.

Kent Leaf 24 Recto Translation
A translation of this leaf is currently unavailable.