Kent State University Leaf 19
This leaf is from an Italian Bible of the early fourteenth century, and measures 23.5 x 17 cm. The leaves from this bible provide us with clear insight into Otto Ege's selection method. All the Leaf 19s on this site contain a large beautiful initial letter denoting the start of a new book of the Bible--thus we can expect that all of the rest of the specimens of Leaf 19 in the Ege portfolios are leaves that contain the ending of one Biblical book and the beginning of another, and we can assume that Ege chose them for the sake of the single large decorated initial. Apart from the arresting initial, the leaves contain red and blue ink scrollwork, with headers in alternating red and blue. Missing pieces of text (sometimes fairly lengthy ones) have attention drawn to them by being outlined in red. See Denison University Leaf 19 for more information about this manuscript.
Text: Leviticus 27:10-34 and Numbers 1:1-20 (recto). A scan of the verso is not currently available.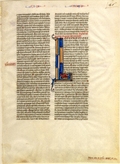 Kent Leaf 19 Recto
Kent State University Leaf 19 Recto

Kent Leaf 19 Recto Transcription
[column A]
quod mutátum est, et illud pro quo mutátum est, consecrátum erit Dómino. Ánimal immúndum, quod immolári Dómino non potest, si quis vóverit, adducétur ante sacerdótem: qui júdicans utrum bonum an malum sit, státuet prétium. Quod si dare volúerit is qui offert, addet supra æstimatiónem quintam partem. Homo si vóverit domum suam, et sanctificáverit Dómino, considerábit eam sacérdos utrum bona an mala sit, et juxta prétium, quod ab eo fúerit constitútum, venundábitur: sin autem ille qui vóverat, volúerit redímere eam, dabit quintam partem æstimatiónis supra, et habébit domum. Quod si agrum possessiónis suæ vóverit, et consecráverit Dómino, juxta mensúram seméntis æstimábitur prétium: si trigínta módiis hórdei séritur terra, quinquagínta siclis venundétur argénti. Si statim ab anno incipiéntis jubilaei vóverit agrum, quanto válere potest, tanto æstimábitur. Sin autem post aliquántum témporis, supputábit sacérdos pecúniam juxta annórum, qui réliqui sunt, númerum usque ad jubilaeum, et detrahétur ex prétio. Quod si volúerit redímere agrum ille qui vóverat, addet quintam partem æstimátæ pecúniæ, et possidébit eum. Sin autem nolúerit redímere, sed álteri cuilíbet fúerit venundátus, ultra eum qui vóverat redímere non póterit. Quia cum jubilaei vénerit dies, sanctificátus erit Dómino, et posséssio consecráta ad jus pértinet sacerdótum. Si ager emptus est, et non de possessióne majórum sanctificátus fúerit Dómino, supputábit sacérdos juxta annórum númerum usque ad jubilaeum, prétium: et dabit ille qui vóverat eum, Dómino. In jubilaeo autem revertétur ad priórem dóminum, qui vendíderat eum, et habúerat in sorte possessiónis suæ. Omnis æstimátio siclo sanctuárii ponderábitur. Siclus vigínti óbolos habet. Primogénita, quæ ad Dóminum pértinent, nemo sanctificáre póterit et vóvere: sive bos, sive ovis fúerit, Dómini sunt. Quod si immúndum est ánimal, rédimet qui óbtulit, juxta æstimatiónem tuam, et addet quintam partem prétii: si redímere nolúerit, vendétur álteri quantocúmque a te fúerit æstimátum. Omne quod Dómino consecrátur, sive homo fúerit, sive ánimal, sive ager, non vendétur, nec rédimi póterit. Quidquid semel fúerit consecrátum, Sanctum sanctórum erit Dómino: et omnis consecrátio, quæ offértur ab hómine, non redimétur, sed morte moriétur. Omnes décimæ terræ, sive de frúgibus, sive de pomis árborum, Dómini sunt, et illi sanctificántur.
[column B]
Si quis autem volúerit redímere décimas suas, addet quintam partem eárum. Ómnium decimárum bovis et ovis et capræ, quæ sub pastóris virga tránseunt, quidquid décimum vénerit, sanctificábitur Dómino. Non eligétur nec bonum nec malum, nec áltero commutábitur, si quis mutáverit: et quod mutátum est, et pro quo mutátum est, sanctificábitur Dómino, et non redimétur. Hæc sunt præcépta, quæ mandávit Dóminus Móysi ad fílios Israël in monte Sínai.
Explicit liber Levitici. Incipit liber Numeri.
Locutúsque est Dóminus ad Móysen in desérto Sínai in tabernáculo fóederis, prima die mensis secúndi, anno áltero egressiónis eórum ex Ægýpto, dicens: Tóllite summam univérsæ congregatiónis filiórum Israël per cognatiónes et domos suas, et nómina singulórum, quidquid sexus est masculíni a vigésimo anno et supra, ómnium virórum fórtium ex Israël, et numerábitis eos per turmas suas, tu et Áaron. Erúntque vobíscum príncipes tríbuum ac domórum in cognatiónibus suis, quorum ista sunt nómina: de Ruben, Elísur, fílius Sédeur; de Símeon, Salámiel fílius Surisáddai; de Juda, Nahásson fílius Amínadab; de Issáchar, Nathánaël fílius Suar; de Zábulon, Elíab fílius Helon; filiórum autem Joseph, de Éphraim, Elisáma fílius Ámmiud; de Manásse, Gamáliel fílius Phadássur; de Bénjamin, Ábidan fílius Gedeónis; de Dan, Ahiézer fílius Ammisáddai; de Aser, Phégiel fílius Ochran; de Gad, Eliásaph fílius Duel; de Nephtháli, Ahíra fílius Enan. Hi nobilíssimi príncipes multitúdinis per tribus et cognatiónes suas, et cápita exércitus Israël, quos tulérunt Móyses et Áaron cum omni vulgi multitúdine: et congregavérunt primo die mensis secúndi, recenséntes eos per cognatiónes, et domos, ac famílias, et cápita, et nómina singulórum a vigésimo anno et supra, sicut præcéperat Dóminus Móysi. Numeratíque sunt in desérto Sínai. De Ruben primogénito Israëlis per generatiónes

Kent Leaf 19 Recto Translation
[Leviticus 27:10-34]
...for which it was changed, shall be consecrated to the Lord. 11 An unclean beast, which cannot be sacrificed to the Lord, if any man shall vow, shall be brought before the priest: 12 Who judging whether it be good or bad, shall set the price: 13 Which if he that offereth it will give, he shall add above the estimation the fifth part. 14 If a man shall vow his house, and sanctify it to the Lord, the priest shall consider it, whether it be good or bad, and it shall be sold according to the price, which he shall appoint. 15 But if he that vowed, will redeem it, he shall give the fifth part of the estimation over and above, and shall have the house. 16 And if he vow the field of his possession, and consecrate it to the Lord, the price shall be rated according to the measure of the seed. If the ground be sowed with thirty bushels of barley, let it be sold for fifty sicles of silver. 17 If he vow his field immediately from the year of jubilee that is beginning, as much as it may be worth, at so much it shall be rated. 18 But if some time after, the priest shall reckon the money according to the number of years that remain until the jubilee, and the price shall be abated. 19 And if he that had vowed, will redeem his field, he shall add the fifth part of the money of the estimation, and shall possess it. 20 And if he will not redeem it, but it be sold to any other man, he that vowed it, may not redeem it any more: 21 For when the day of jubilee cometh, it shall be sanctified to the Lord, and as a possession consecrated, pertaineth to the right of the priests. 22 If a field that was bought, and not of a man's ancestors' possession, be sanctified to the Lord, 23 The priest shall reckon the price according to the number of years: unto the jubilee: and he that had vowed, shall give that to the Lord. 24 But in the jubilee, it shall return to the former owner, who had sold it, and had it in the lot of his possession. 25 All estimation shall be made according to the sicle of the sanctuary. A sicle hath twenty obols. 26 The firstborn, which belong to the Lord, no man may sanctify and vow: whether it be bullock, or sheep, they are the Lord's. 27 And if it be an unclean beast, he that offereth it shall redeem it, according to thy estimation, and shall add the fifth part of the price. If he will not redeem it, it shall be sold to another for how much soever it was estimated by thee. 28 Any thing that is devoted to the Lord, whether it be man, or beast, or field, shall not be sold, neither may it be redeemed. Whatsoever is once consecrated shall be holy of holies to the Lord. 29 And any consecration that is offered by man, shall not be redeemed, but dying shall die. 30 All tithes of the land, whether of corn, or of the fruits of trees, are the Lord's, and are sanctified to him. 31 And if any man will redeem his tithes, he shall add the fifth part of them. 32 Of all the tithes of oxen, and sheep, and goats, that pass under the shepherd's rod, every tenth that cometh shall be sanctified to the Lord. 33 It shall not be chosen neither good nor bad, neither shall it be changed for another. If any man change it: both that which was changed, and that for which it was changed, shall be sanctified to the Lord, and shall not be redeemed.
Here ends the book of Leviticus. Here begins the book of Numbers.
[Numbers 1:20]
1 And the Lord spoke to Moses in the desert of Sinai in the tabernacle of the covenant, the first day of the second month, the second year of their going out of Egypt, saying: 2 Take the sum of all the congregation of the children of Israel by their families, and houses, and the names of every one, as many as are of the male sex, 3 From twenty years old and upwards, of all the men of Israel fit for war, and you shall number them by their troops, thou and Aaron. 4 And there shall be with you the princes of the tribes, and of the houses in their kindreds, 5 Whose names are these: Of Ruben, Elisur the son of Sedeur. 6 Of Simeon, Salamiel the son of Surisaddai. 7 Of Juda, Nahasson the son of Aminadab. 8 Of Issachar, Nathanael the son of Suar. 9 Of Zabulon, Eliab the son of Helon. 10 And of the sons of Joseph: of Ephraim, Elisama the son of Ammiud: of Manasses, Gamaliel the son of Phadassur. 11 Of Benjamin, Abidan the son of Gedeon. 12 Of Dan, Ahiezer the son of Ammisaddai. 13 Of Aser, Phegiel the son of Ochran. 14 Of Gad, Eliasaph the son of Duel. 15 Of Nephtali, Ahira the son of Enan. 16 These are the most noble princes of the multitude by their tribes and kindreds, and the chiefs of the army of Israel: 17 Whom Moses and Aaron took with all the multitude of the common people: 18 And assembled them on the first day of the second month, reckoning them up by the kindreds, and houses, and families, and heads, and names of every one from twenty years old and upward, 19 As the Lord had commanded Moses. And they were numbered in the desert of Sinai. 20 Of Ruben the eldest son of Israel, by their generations...