Denison University Leaf 24
Otto Ege provided the following description for leaves from this manuscript:
Book of Hours (Horæ Beatæ Mariæ Virginis). England (?); Middle 14th Century. Latin Text; Angular Gothic Script.
This particular Book of Hours, a devotional prayer book for the layman, was made for the use of Sarum, the early name for Salisbury, England. This text was accepted throughout the province of Canterbury. The manuscript was written about the time Chaucer completed his Canterbury Tales, but evidently by a French monk, who might have been attached, as was often the case, to an English monastery. Again, the book could have been specially ordered and imported from abroad. The initial letter and the coloring and the treatment of the ivy are unmistakably French.
The lettering is an excellent example of the then current book hand. There are seven lines of writing to an inch. The words written in red, a heavy color made from mercury and sulphur, show almost the same degree of delicacy as those written with the more fluid ink.
Size: 17.5 x 12.5 cm
Observations: This is a very early Book of Hours, and both its date and its contents set it apart from the typical Books of Hours from the fifteenth and sixteenth centuries. It has many characteristics of a breviary.

Text: From the services for Advent. Begins with a prayer to the Virgin, then into a commemoration of Saints Stephen and William, then the Relics of the Saints, then All Saints (recto); the verso continues prayers for All Saints, and includes text from Isaiah 33.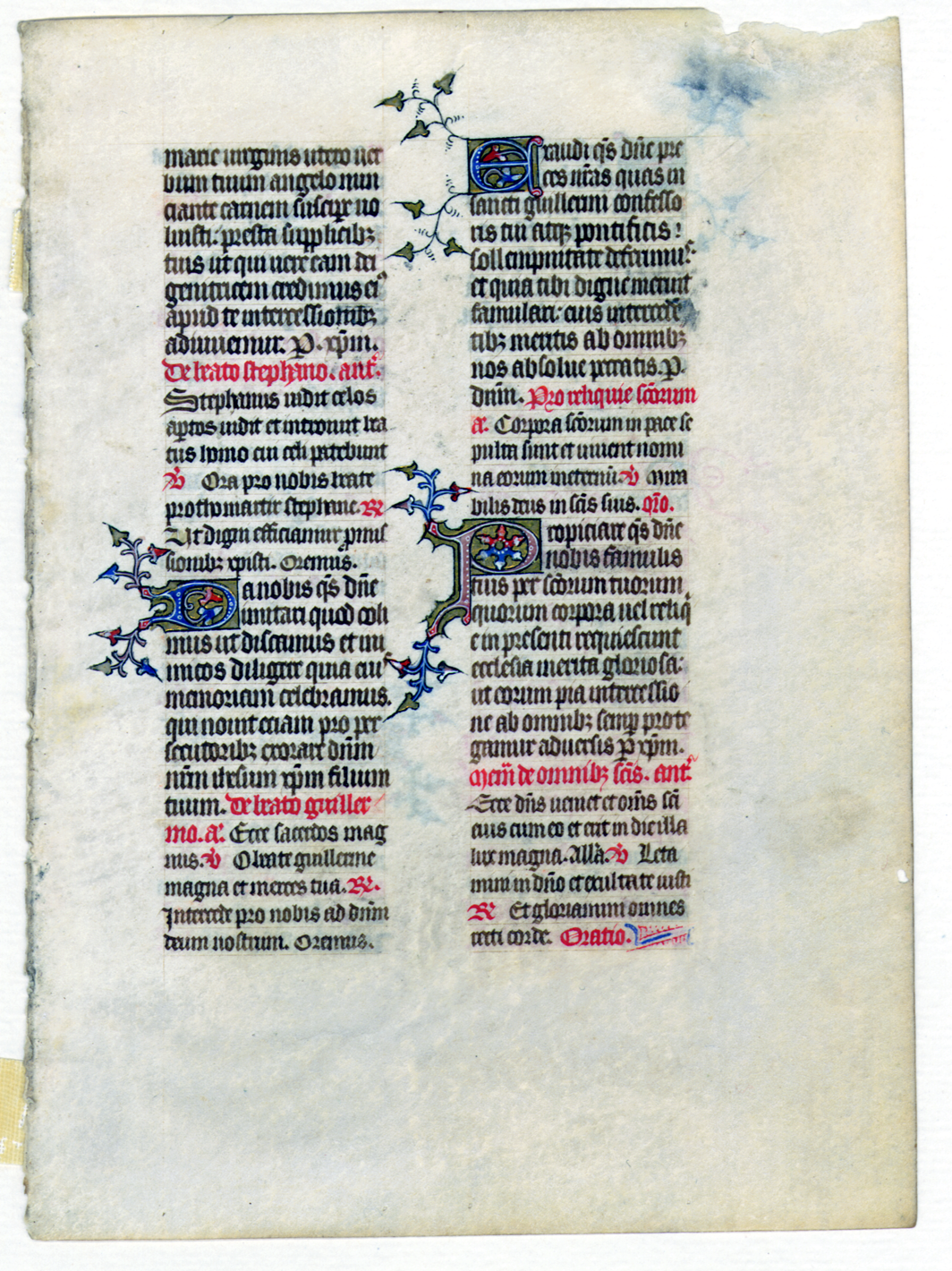 Denison Leaf 24 Recto
Denison University Leaf 24 Recto

Denison Leaf 24 Recto Transcription
[column A]
Mariæ Virginis utero Verbum tuum, Angelo nuntiante, carnem suscipere voluisti: præsta supplicibus tuis: ut qui vere eam Genitricem Dei credimus, ejus apud te intercessionibus adjuvemur. Per Christum.
De beato Stephano. Ant.
Stephanus vadit celos apertos vidit et introivit beatus homo celi patebunt. V. Ora pro nobis beate prothomartir Stephane. R. Ut digni efficiamur permissionibus Christi. Oremus.
Da nobis quesumus domine imitari quod colimus ut discamus et inimicos diligere quia eius commemorationem celebramus qui novit etiam pro persecutoribus suis exorare dominum nostrum iesum christum filium tuum.
De beato Guillermo. A. Ecce sacerdos magnus. V. O beate Guillerme magna et merces tua. R. Intercede pro nobis ad dominum deum nostrum. Oremus.

[column B]

Exaudi quesumus domine preces nostras quas in sancti Guillermi confessoris tui atque pontificis, sollempnitate deferimus, et quia tibi dignemerunt famulari; eius intercedentibus meritis ab omnibus nos absolue peccatis. Per dominum.

Pro reliquie sanctorum. A. Corpora sanctorum in pace sepulta sunt et uiuent nomina eorum in eternum. V. Mirabilis deus in sanctis suis. Oro.

Propiciare quaesumus domine nobis famulis tuis per sanctorum tuorum quorum corpora uel reliqaue in persenti requiescunt ecclesia merita gloriosa: ut eorum pia intercessione ab omnibus semper protegamur aduersis. Per Christum.

Mem. de omnibus sanctis. Ant.

Ecce dominus ueniet et omnis sancti eius cum eo et erit in die illa lux magna. Alleluia. V. Letamini in domino et exultate iusti. R. Et gloriamini omnes recti corde. Oratio.


Denison Leaf 24 Recto Translation
A translation of this leaf is currently unavailable.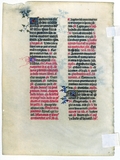 Denison Leaf 24 Verso
Denison University Leaf 24 Verso


Denison Leaf 24 Verso Transcription
[column A]
Consciencias nostras quesumus domine visitando purifica ut veniens Dominus noster Jesus Christus filius tuus paratam sibi in nobis inveniat mansionem. Per eundem Christum.
Pro pace. A. Veni domine visitare nos in pace: ut letëmur coram te corde perfecto. V. Fiat pax in virtute tua. R. Et [ ] in turribus tuis.
Deus a quo sancta. Oro. Desideria. Et. c. Feria secunda.
[3 lines of rubrication untranscribed.]
Ecce concipies. Ps. Beati immaculati. Ps. Retribue. Ps. Quicumque vult.
[6 lines of rubrication untranscribed.]
Exurge domine adiuvia nos. Sicut est in psalterio. Kyriel. Christel. Kyriel. Afflictiones et orationes continentur. Ut s. Ad. iii.
[column B]
A. Angelus domini nunciavit marie et concepit de spiritu sancto. Alleluia. Ps. Legem pone. & [ ]. In diebus illis salvabitur. R. Veni ad liberandum. V. Ostende faciem. Gloria patri. V. Timebunt gentes. Prostraciones sicut est in psalterio continentur. Oro. Excita qs. Domine. Ut s. Ad vi. A. Antequam convenirent inventa est maria habens in utero de spiritu sancto. Alleluia.
Capitulum. Egredietur virga. R. Ostende nobis. V. Et salutare. Gloria patri. V. Memento. Prostratres ut s. Ad nonam. A. Beatam me dicent omnes genrationes [ ] ancillam humilem respexit deus. Psalmus. Mirabilia. Capitulum.
Dominus legifer noster, Dominus rex noster, ipse salvabit nos. R. Super te Ierusalem. V. Et gloria eius. Gloria patri. V. Domine deus virtutum. Prostraciones Ad. us. A. Inclinavit. Ps. Dilexi qui. & cum cap. In diebus illis salvabuntur. Hymnus

Denison Leaf 24 Verso Translation
A translation of this leaf is currently unavailable.