Cincinnati Public Library Leaf 43
This leaf is from a Dutch Book of Hours from the later fifteenth century, and measures 17.5 x 13 cm. Compared to those of other contemporary Books of Hours, these leaves are somewhat plain; the text is dark black, with (as Ege notes) an even darker tone created by the closely-spaced lines. The latter contrasts nicely with the alternating red and blue initialing and feathery tracery, some of which is in violet. The vellum of several leaves is puckered outside the text block. See Denison University Leaf 43 for more information about this manuscript.
Text: Psalms 122:2-123:7 (recto) and 123:7-125:2 (verso).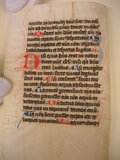 Cincinnati Leaf 43 Recto
Cincinnati Public Library Leaf 43 Recto

Cincinnati Leaf 43 Recto Transcription
ancíllæ in mánibus dóminæ suæ: ita óculi nostri ad Dóminum Deum nostrum, donec misereátur nostri. Miserére nostri, Dómine, miserére nostri, quia multum repléti sumus despectióne; quia multum repléta est ánima nostra oppróbrium abundántibus, et despéctio supérbis. ii.
Nisi quia Dóminus erat in nobis, dicat nunc Israël, nisi quia Dóminus erat in nobis: cum exsúrgerent hómines in nos, forte vivos deglutíssent nos; cum irascerétur furor eórum in nos, fórsitan aqua absorbuísset nos; torréntem pertransívit ánima nostra; fórsitan pertransísset ánima nostra aquam intolerábilem. Benedíctus Dóminus, qui non dedit nos in captiónem déntibus eórum. Ánima nostra sicut passer erépta est de láqueo venántium; láqueus contrítus

Cincinnati Leaf 43 Recto Translation
[Psalms 122:2-4] ...of the handmaid are on the hands of her mistress: so are our eyes unto the Lord our God, until he have mercy on us. 3 Have mercy on us, O Lord, have mercy on us: for we are greatly filled with contempt. 4 For our soul is greatly filled: we are a reproach to the rich, and contempt to the proud. 2.
[Psalms 123:1-7] If it had not been that the Lord was with us, let Israel now say: 2 If it had not been that the Lord was with us, When men rose up against us, 3 perhaps they had swallowed us up alive. When their fury was enkindled against us, 4 perhaps the waters had swallowed us up. 5 Our soul hath passed through a torrent: perhaps our soul had passed through a water insupportable. 6 Blessed be the Lord, who hath not given us to be a prey to their teeth. 7 Our soul hath been delivered as a sparrow out of the snare of the fowlers. The snare is broken...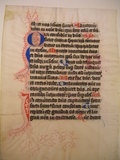 Cincinnati Leaf 43 Verso
Cincinnati Public Library Leaf 43 Verso

Cincinnati Leaf 43 Verso Transcription
est, et nos liberáti sumus. Adjutórium nostrum in nómine Dómini, qui fecit cælum et terram. iii psalmus.
Qui confídunt in Dómino, sicut mons Sion: non commovébitur in ætérnum, qui hábitat in Jerúsalem. Montes in circúitu ejus; et Dóminus in circúitu pópuli sui, ex hoc nunc et usque in sǽculum. Quia non relínquet Dóminus virgam peccatórum super sortem justórum: ut non exténdant justi ad iniquitátem manus suas, bénefac, Dómine, bonis, et rectis corde. Declinántes autem in obligatiónes, addúcet Dóminus cum operántibus iniquitátem. Pax super Israël! Sext.
In converténdo Dóminus captivitátem Sion, facti sumus sicut consoláti. Tunc replétum est gáudio os nostrum, et lingua nostra exsultatióne. Tunc dicent

Cincinnati Leaf 43 Verso Translation
[Psalms 123:7-8] ...and we are delivered. 8 Our help is in the name of the Lord, who made heaven and earth. 3. Psalm.
[Psalms 124] They that trust in the Lord shall be as mount Sion: he shall not be moved for ever that dwelleth 2 in Jerusalem. Mountains are round about it: so the Lord is round about his people from henceforth now and for ever. 3 For the Lord will not leave the rod of sinners upon the lot of the just: that the just may not stretch forth their hands to iniquity. 4 Do good, O Lord, to those that are good, and to the upright of heart. 5 But such as turn aside into bonds, the Lord shall lead out with the workers of iniquity: peace upon Israel. Sext.
[Psalms 125:1-2] When the lord brought back the captivity of Sion, we became like men comforted. 2 Then was our mouth filled with gladness; and our tongue with joy. Then shall they say...