Cincinnati Public Library Leaf 28
This leaf is from a French Book of Hours from the mid-fifteenth century, and measures 15 x 10.5 cm. The metal alloys used in the decorations have tarnished, and there is visible chemical deterioration of the vellum. Some of the leaves display smudging of the ink when still wet. See Denison University Leaf 28 for more information about this manuscript.

Text: The leaves we have seen indicate that this Book of Hours accords with the Use of Metz; see especially Leaf 28 in the Kent State, Denison, Kenyon, and Lima portfolios for evidence. This leaf contains text from the Hours of the Virgin at Lauds, specifically Psalms 148, 149, and 150.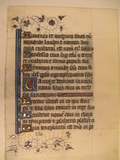 Cincinnati Leaf 28 Recto
Cincinnati Public Library Leaf 28 Recto

Cincinnati Leaf 28 Recto Transcription
Iuvenes, et virgines, senes cum iunioribus laudent nomen Domini: quia exaltatum est nomen eius solius.
Confessio eius super caelum et terram: et exaltabit cornu populi sui.
Hymnus omnibus sanctis eius, filiis Israel: populo appropinquanti sibi.
Cantate Domino canticum novum: laus eius in ecclesia sanctorum.
Laetetur Israel in eo, qui fecit eum: et filiae Sion exultent in rege suo.
Laudent nomen eius in choro: in tympano, et psalterio psallant ei.
Quia beneplacitum est Domino in po-

Cincinnati Leaf 28 Recto Translation
[Psalms 148] Young men, and virgins, old with young let them praise the name of our Lord: because the name of him alone is exalted. The confession of him above heaven and earth: and he hath exalted the horn of his people. An hymn to all his saints, to the sons of Israel: a people approaching unto him.
[Psalms 149] Sing ye to our Lord a new song: his praise in the church of saints. Let Israel be joyful in him, that made him: and let the daughters of Sion rejoice in their king. Let them praise his name in dance: on timbrel, and psaltery let them sing to him. Because our Lord is well pleased in his...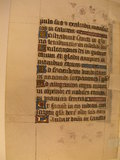 Cincinnati Leaf 28 Verso
Cincinnati Public Library Leaf 28 Verso


Cincinnati Leaf 28 Verso Transcription
-pulo suo: et exaltavit mansuetos in salutem.
Exultabunt sancti in gloria: laetabuntur in cubilibus suis.
Exaltationes Dei in gutture eorum: et gladii ancipites in manibus eorum.
Ad faciendam vindictam in nationibus: increpationes in populis.
Ad alligandos reges eorum in conpedibus: et nobiles eorum in manicis ferreis.
Ut faciant in eis iudicium conscriptum: gloria haec est omnibus sanctis eius.
Laudate Dominum in sanctis


Cincinnati Leaf 28 Verso Translation
[continues Psalms 149] ...people: and he hath exalted the meek unto salvation.
The saints shall rejoice in glory: they shall be joyful in their beds.
The joyfulness of God in their throats and two-edged swords in their hands.
To do revenge in the nations: chastisements amongst his peoples.
To bind their kings in fetters: and their nobles in iron manacles.
That they may do in them the judgment that is written: this glory is to all his saints.
[Psalms 150] Praise ye our Lord in his saints...