Cleveland Institute of Art Leaf 37
This leaf is from an Epsitolary, a manuscript containing the Gospels and Epistles (i.e., Letters) of the New Testament as well as lessons from the Hebrew Scriptures. It was copied in Italy in the mid-fifteenth century, and measures 29 x 21.5 cm. The script is an attractive, readable "Rotunda" (round) Gothic, with first letters of verses filled with yellow. The top margin has been trimmed, and some leaves show extensive erasure. See Denison University Leaf 37 for more information about this manuscript.
Text: Isaiah 55:7-11; Exodus 24:12 (recto); Exodus 24:12-18; 3 Kings 19:3-4 (verso).
Reconstruction Note! In Ege's original manuscript, this leaf followed what is now Leaf 37 in the Kent State University portfolio.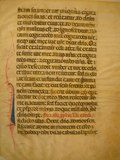 Cleveland Institute of Art Leaf 37 Recto
Cleveland Institute of Art Leaf 37 Recto

Cleveland Institute of Art Leaf 37 Recto Transcription
viam suam, et vir iníquus cogitatiónes suas, et revertátur ad Dóminum, et miserébitur ejus; et ad Deum nostrum, quóniam multus est ad ignoscéndum. Non enim cogitatiónes meæ cogitatiónes vestræ, neque viæ vestræ viæ meæ, dicit Dóminus. Quia sicut exaltántur cæli a terra, sic exaltátæ sunt viæ meæ a viis vestris, et cogitatiónes meæ a cogitatiónibus vestris. Et quómodo descéndit imber et nix de cælo, et illuc ultra non revértitur, sed inébriat terram, et infúndit eam, et germináre eam facit, et dat semen serénti, et panem comedénti: sic erit verbum meum quod egrediétur de ore meo; non revertétur ad me vácuum, sed fáciet quæcúmque vólui, et prosperábitur in his ad quæ misi illud. [ ] [ ]
In diebus illis. Dixit autem Dóminus ad Móysen: Ascénde ad me in montem, et esto ibi: dabóque tibi tábulas lapídeas

Cleveland Institute of Art Leaf 37 Recto Translation
[Isaiah 55:7-11] ...his way, and the unjust man his thoughts, and let him return to the Lord, and he will have mercy on him, and to our God: for he is bountiful to forgive. 8 For my thoughts are not your thoughts: nor your ways my ways, saith the Lord. 9 For as the heavens are exalted above the earth, so are my ways exalted above your ways, and my thoughts above your thoughts. 10 And as the rain and the snow come down from heaven, and return no more thither, but soak the earth, and water it, and make it to spring, and give seed to the sower, and bread to the eater: 11 So shall my word be, which shall go forth from my mouth: it shall not return to me void, but it shall do whatsoever I please, and shall prosper in the things for which I sent it. [ ] [ ]
[Exodus 24:12] In those days. 12 And the Lord said to Moses: Come up to me into the mount, and be there: and I will give thee tables of stone...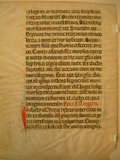 Cleveland Institute of Art Leaf 37 Verso
Cleveland Institute of Art Leaf 37 Verso


Cleveland Institute of Art Leaf 37 Verso Transcription
et legem, ac mandáta quæ scripsi: ut dóceas eos. Surrexérunt Móyses et Jósue miníster ejus: ascendénsque Móyses in montem Dei, senióribus ait: Expectáte hic donec revertámur ad vos. Habétis Áaron et Hur vobíscum: si quid natum fúerit quæstiónis, referétis ad eos. Cumque ascendísset Móyses, opéruit nubes montem, et habitávit glória Dómini super Sínai, tegens illum nube sex diébus: séptimo autem die vocávit eum de médio calíginis. Erat autem spécies glóriæ Dómini quasi ignis ardens super vérticem montis in conspéctu filiórum Ísraël. Ingressúsque Móyses médium nébulæ, ascéndit in montem: et fuit ibi quadragínta diébus, et quadragínta nóctibus. Epistola [ ] regum.
In diebus illis. Venít Elias in Bersabée Juda, et dimísit ibi púerum suum, et perréxit in desértum, viam uníus diéi. Cumque venísset, et sedéret subter unam juníperum

Cleveland Institute of Art Leaf 37 Verso Translation
[Exodus 24:12-18] ...and the law, and the commandments which I have written: that thou mayst teach them. 13 Moses rose up, and his minister Josue: and Moses going up into the mount of God, 14 Said to the ancients: Wait ye here till we return to you. You have Aaron and Hur with you: if any question shall arise, you shall refer it to them. 15 And when Moses was gone up, a cloud covered the mount. 16 And the glory of the Lord dwelt upon Sinai, covering it with a cloud six days: and the seventh day he called him out of the midst of the cloud. 17 And the sight of the glory of the Lord was like a burning fire upon the top of the mount, in the eyes of the children of Israel. 18 And Moses, entering into the midst of the cloud, went up into the mountain: and he was there forty days, and forty nights. [ ]
In that time. [3 Kings 19:3-4] ...and Elias came to Bersabee of Juda, and left his servant there, 4 And he went forward, one day's journey into the desert. And when he was there, and sat under a juniper tree...