University of Colorado, Boulder Leaf 24
Ege identifies this leaf as coming from a Book of Hours made in England or northern France in the mid-fourteenth century, and containing instructions for worship in accordance with the Use of Sarum. It measures 17.5 x 12.5 cm. Its angular ivy-leaf decoration help localize its origin. See Denison University Leaf 24 for more information about this manuscript.
Text: Possibly for use on the first Sunday in Advent. Contains Isaiah 21:1-5, part of the hymn "Rorate caeli" (Drop down, ye heavens), and Luke 1:26-27 (recto). A scan of the verso is not currently available.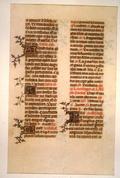 Boulder Leaf 24 Recto
University of Colorado, Boulder Leaf 24 Recto

Boulder Leaf 24 Recto Transcription
[column A]
-co veniunt: de desérto venit, de terra horríbili. Vísio dura nuntiáta est mihi: qui incrédulus est infidéliter agit; et qui depopulátor est vastat.
Lectio secundum. Ascénde, Ælam; óbside, Mede; omnem gémitum ejus cessáre feci. Proptérea repléti sunt lumbi mei dolóre; angústia possédit me sicut angústia arturiéntis; córrui cum audírem, conturbátus sum cum vidérem. Hec dicit.
Lectio iii. Emárcuit cor meum; ténebræ stupefecérunt me: Bábylon dilécta mea pósita est mihi in miráculum. Pone mensam, contempláre in spécula comedéntes et bibéntes: súrgite, príncipes, arrípite clýpeum. Hec dicit. V. Emitte.
In laudibus A. Rorate caeli desuper, et nubes pluant justum: aperiatur
[column B]
terra, et germinet salvatorem.
Ps. Miserere. A. Emitte agnum Domine dominatorem terne. De petra deserti ad montem filiæ Sion. A. Ut cognoscamus domine in omnibus gentibus salutare tuum. A. Da mercedem domine sustinentibus te ut prophetae tui fideles inveniantur. A. Lex per Moysen data est, gracia et veritas per Jhesum Christum facta est. Alleluia. A. Tu Bethleem terra Juda non eris minimaex te enim exiet dux qui regat populum meum Israel. Psalmus. Benedictus.
[7 lines untranscribed.]
Sedum Lucam. In illo tempore: Missus est angelus Gabriel a Deo in civitatem Galilee, cui nomen Nazareth: ad virginem desponsatam viro cui nomen erat Io-

Boulder Leaf 24 Recto Translation
A translation of this leaf is currently unavailable.