University of Colorado, Boulder Leaf 08
This leaf is from a 13th century English gradual, and measures 18 x 12cm. See Denison University Leaf 08 for more information about this manuscript.
Text: This may be from the hymn "In Caena Domini" used on Holy Thursday (Maundy Thursday), the day before Good Friday.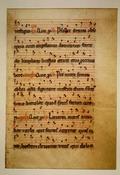 Boulder Leaf 08 Recto
University of Colorado, Bolder Leaf 08 Recto

Boulder Leaf 08 Recto Transcription
vestigia. [ ] Que p. V. Psallet servus obsequio cum angelorum Dominum Ferendo lympham lintheo cernit ceno procumbere. [ ] Que p. V. Per mitte Symon ablui acta figurant mystica. Dum summus syma baiulat quod synis servet cineri. V. Lavator moris accubat, verbique favos aggerat. Quos inter hostem denotat necis qui dolos

Boulder Leaf 08 Recto Translation
A translation of this leaf is currently unavailable.