University of Colorado, Boulder Leaf 07
This leaf contains text from Aurora, a 15,000-line Latin poem by Petrus de Riga which paraphrases and interprets some two dozen books of the Bible. Its oblong dimensions (24 x 11cm) make it easy to recognize, and Ege locates its origin as English in part due to this shape. It dates to the early 13th century, and is written in an early Gothic hand. See Denison University Leaf 07 for more information about this manuscript.
Text: "Evangelium," lines 1928-69 (recto). A scan of the verso of the leaf is not currently available.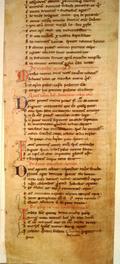 Boulder Leaf 07 Recto
University of Colorado, Boulder Leaf 07 Recto

Boulder Leaf 07 Recto Transcription
["Evangelium," lines 1928-69. See Beichner, vol. II, pp. 500-01.]
Infundens oleum proficuumque merum.
Curandum domino stabuli committit ut eius
Curam deuotus et studiosus agat.
Ille miser designat Adam, qui de paradiso
Corruit in mundum saucius ense Sathan;
Non istum sanat Moysi lex siue prophete
Donec Christus adest, qui medicina fuit.
Est caro iumentum pro nostra sumpta salute,
Qua moriens hominem sponte redemit homo.
Est oleum pietas, uinum compunctio culpe;
Cuilibet ista duo sunt medicina reo.
Qui stabulum seruat egrum curando magistros
Qui curant animas per sua uerba notat.
De Martha et Maria.
Martha, Maria duas uitas signare uidentur;
Actiuus labor est Martha, Maria quies.
Hec Christum pascit, a Christo pascitur illa;
Porriget hec panem, pascitur illa fauis.
Quis unum hunc amicum ubit illum.
Nocte petens media panes homo tres ab amico
Signat in aduersis que tria quisque petat.
Dona spei, fidei uirtutem, munus amoris,
Hec tria tres panes nomino, credo, lego.
Hi panes mirum pariunt in corde saporem;
Isti munditiam, gaudia, robur alunt.
Pura fides dat munditiam, spes certa ministrat
Gaudia, sanctus amor robore corda replet.
De pane, ouo, lapide, pisce, serpente, etc.
Panis communis amor; ouum, spes animalis,
Signat spem; debes pisce notare fidem.
Par lapis est odio; serpentum perfidus equat;
Te, si desperas, scorpio retro ferit.
De diuite habente fructus.
Diues agrum coluit; respondet diuite fructu
Plenus ager domino; preparat ille locum.
Horrea, uasa, domos, uectes iuuenescere cogit,
In quibus abscondat quicquid habebat opum.
Vox celestis ait: "Nox hec tibi terminus." Equa
Mors animam rapuit, raptor iniquus opes.
Hoc docet exemplum quod si tibi copia rerum
Affluat, affectum non ibi pone tuum.
De quinque in una domo.
In sola sunt quinque domo, materque paterque
Natus, nata, nurus; hos habet una domus.
Hos tres in binos aut in tres diuide binos,
Diuisos homines mente fideque notas.
Partitio quasdam scissuras, scismata gignit,

Boulder Leaf 07 Recto Translation
An English translation of Aurora does not presently exist.