University of Colorado, Boulder Leaf 02
This twelfth century Spanish missal is 34 x 23.5 cm on slightly yellowed vellum. Lined with lead plummet or very light ink, the text, described by Ege as gothic minuscule, is in black ink with enlarged initials and phrases highlighted in red-orange. See Denison University Leaf 02 for more information on this manuscript.
Text: Ephesians 2:19-22 and Romans 8:28-34 (recto). A scan of the verso of the leaf is not currently available. The responses have not yet been transcribed.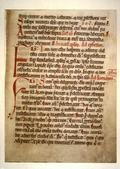 Boulder Leaf 02 Recto
University of Colorado, Boulder Leaf 02 Recto

Boulder Leaf 02 Recto Transcription
[6 lines of untranscribed responses]
FRS. Iam non estis hóspites, et advénæ: sed estis cives sanctórum, et doméstici Dei, superædificáti super fundaméntum apostólorum, et prophetárum, ipso summo angulári lápide Christo Jesu: in quo omnis ædificátio constrúcta crescit in templum sanctum in Dómino, in quo et vos coædificámini in habitáculum Dei in Spíritu.
Ad Romanos. FRS. Scimus quóniam diligéntibus Deum ómnia cooperántur in bonum, iis qui secúndum propósitum vocáti sunt sancti. Nam quos præscívit, et prædestinávit confórmes fíeri imáginis Fílii sui, ut sit ipse primogénitus in multis frátribus. Quos autem prædestinávit, hos et vocávit: et quos vocávit, hos et justificávit: quos autem justificávit, illos et glorificávit. Quid ergo dicémus ad hæc? si Deus pro nobis, qui contra nos? Qui étiam próprio Fílio suo non pepércit, sed pro nobis ómnibus trádidit illum: quómodo non étiam cum illo ómnia nobis donávit? Quis accusábit advérsus eléctos Dei? Deus qui justíficat, quis est qui condémnet? Christus Jesus, qui mórtuus est, immo qui et re-

Boulder Leaf 02 Recto Translation
[6 lines of responses not yet transcribed.]
[Ephesians 2:19-22]
Therefore you are no more strangers and foreigners; but you are fellow citizens with the saints, and the domestics of God, 20 Built upon the foundation of the apostles and prophets, Jesus Christ himself being the chief corner stone: 21 In whom all the building, being framed together, groweth up into an holy temple in the Lord. 22 In whom you also are built together into an habitation of God in the Spirit.
[Romans 8:28-34]
28 And we know that to them that love God, all things work together unto good, to such as, according to his purpose, are called to be saints. 29 For whom he foreknew, he also predestinated to be made conformable to the image of his Son; that he might be the firstborn amongst many brethren. 30 And whom he predestinated, them he also called. And whom he called, them he also justified. And whom he justified, them he also glorified. 31 What shall we then say to these things? If God be for us, who is against us? 32 He that spared not even his own Son, but delivered him up for us all, how hath he not also, with him, given us all things? 33 Who shall accuse against the elect of God? God that justifieth. 34 Who is he that shall condemn? Christ Jesus that died, yea that is...