University of Massachusetts, Amherst Leaf 43
This leaf is from a Dutch Book of Hours from the later fifteenth century, and measures 17.5 x 13 cm. Compared to those of other contemporary Books of Hours, these leaves are somewhat plain; the text is dark black, with (as Ege notes) an even darker tone created by the closely-spaced lines. The latter contrasts nicely with the alternating red and blue initialing and feathery tracery, some of which is in violet. The vellum of several leaves is puckered outside the text block. See Denison University Leaf 43 for more information about this manuscript.
Text: Psalms 118:154-63 (verso). A scan of the recto is not currently available.
Reconstruction Note! In Ege's original manuscript, this leaf was followed by what is now Leaf 43 in the Cleveland Institute of Art portfolio.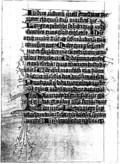 Amherst Leaf 43 Verso
University of Massachusetts, Amherst Leaf 43 Verso


Amherst Leaf 43 Verso Transcription
Júdica judícium meum, et rédime me: propter elóquium tuum vivífica me. Longe a peccatóribus salus, quia justificatiónes tuas non exquisiérunt. Misericórdiæ tuæ multæ, Dómine; secúndum judícium tuum vivífica me. Multi qui persequúntur me, et tríbulant me; a testimóniis tuis non declinávi. Vidi prævaricántes et tabescébam, quia elóquia tua non custodiérunt. Vide quóniam mandáta tua diléxi, Dómine: in misericórdia tua vivífica me. Princípium verbórum tuórum véritas; in ætérnum ómnia judícia justítiæ tuæ. Príncipes persecúti sunt me gratis, et a verbis tuis formidávit cor meum. Lætábor ego super elóquia tua, sicut qui invénit spólia multa. Iniquitátem ódio hábui, et


Amherst Leaf 43 Verso Translation
[Psalms 118:154-63] Judge my judgment and redeem me: quicken thou me for thy word's sake. 155 Salvation is far from sinners; because they have not sought thy justifications. 156 Many, O Lord, are thy mercies: quicken me according to thy judgment. 157 Many are they that persecute me, and afflict me; but I have not declined from thy testimonies. 158 I beheld the transgressors, and I pined away; because they kept not thy word. 159 Behold I have loved thy commandments, O Lord; quicken me thou in thy mercy. 160 beginning of thy words is truth: all the judgments of thy justice are for ever. 161 Princes have persecuted me without cause: and my heart hath been in awe of thy words. 162 I will rejoice at thy words, as one that hath found great spoil. 163 I have hated and abhorred iniquity...