University of Massachusetts Leaf 08
This leaf is from a 13th century English gradual, and measures 18 x 12cm. See Denison University Leaf 08 for more information about this manuscript.
Text: Unidentified.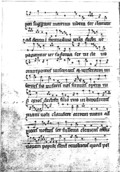 Amherst Leaf 08 Recto
University of Massachusetts, Amherst Leaf 08 Recto

Amherst Leaf 08 Recto Transcription
non suggant matris ubera, sed clament ad Deum in fortitudine ternis diebus, ne patiantur ut Sodoma. Sed tu, Deus omnipotens, misericors et miserator, misertus es miseris; nos sumus opera tua, quos dedisti Filio tuo in haereditatem sibi; noli claudere aurem tuam ad preces nostras, sed subleva clemens afflictionem populi, illud revolvens quod pol-

Amherst Leaf 08 Recto Translation
A translation of this leaf is currently unavailable.